Krasobus routes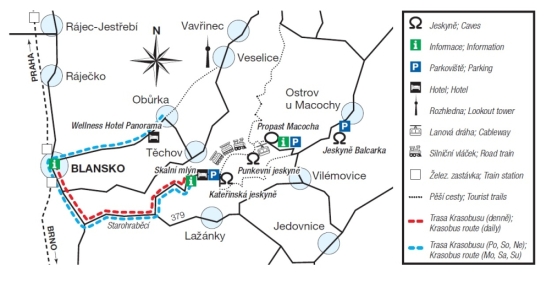 Timetable for Krasobus line 226 can be found here
Line 226 Krasobus is part of the IDS JMK network and IDS tariffs are valid here. It is possible to buy a regular one-way ticket from the driver at the price of CZK 10 and, from 1 June 2022, also a return Krasobus Ticket. The ticket includes a list of entities providing discounts on services and activities in the Moravian Karst.
You will receive a voucher for discounts upon presentation of a ticket at any of the participating entities, then at the Information centre Blanka in and Contact Center at the bus station in Blansko. Validity of discount coupons is unlimited.
Return ticket
Valid for 24 hours from purchase.
Reduced ticket 15 CZK
For children and teen-agers 6-18, students with a student card and passengers over 65.
Children under 6 free
You can pick up a discount voucher here:
Castle Blansko
Aquapark Blansko
St. Martin's Church
Wineshop U Brázdů
The Moravian Karst House of Nature
Katerinska Cave
Transport in the Moravian Karst
Hotel Olberg
Information centre Blanka in Blansko
Kontact centre at the bus station in Blansko